His enthusiasm reinforced by the success of the reconstructed gliders, Károly Császár, the executive head of the Kaposvár branch of the foundation, decided to restore one of the still existing PO-2 planes to airworthy condition. As a result of a co-operation between the foundation and the Farkashegy workshop, a reconstructed Polikarpov PO-2 - on loan from her owner, the Hungarian Museum of Transportation - was ready to take part in the May-day festivities in 1984. Its debut abroad took place in Switzerland in 1985. As the only airworthy copy of her type, she generated such interest, that ever since her introduction she was invited to take part in at least one, but several times more than one events in every year.
The PO-2, piloted by Károly Császár, was being shown at the Budaörs airshow in 1986, when , at the end of her stint, the pilot died of a heart attack, while still airborne. The plane - luckily - landed on her own, with the dead pilot still in her seat, suffering some damage. After the damage was made good, the PO-2 became the most popular and sought after Old-timer Aircraft flying the Hungarian colours. This is due in great part to the history of the PO-2. Designed in 1927 by Polikarpov, from 1928 to the mid fifties she was the standard basic trainer in the Soviet Union. In WWII she was used not only for courier service and medical evacuation, but also as a nocturnal light bomber. In this role it achieved fame as the aircraft flown by women combat pilots, a practice unknown int he air-forces of any other belligerents. After the war she became the mainstay of the newly introduced agricultural aviation. Being of wooden construction and covered with fabric, the challenges of this role were severe, but she coped with flying colours.
In Hungary, the type has seen service first as aerial taxi, later as basic military trainer and courier plane. From the mid-fifties the PO-2 was used in amateur flying for the towing of gliders and for launching of parachutists. There were more than twenty planes of the type, most of them of Polish manufacture, such as our reconstructed plane, which was originally built in 1954.
Agricultural aviation started in Hungary in 1954, and a few PO-2 were utilised in this context, but by the year 1960 their role was taken over by more suitable and up-to-date types. The rest remained in service until 1968. When the type was finally declared redundant, all but two of the remaining copies were destroyed. One of them is displayed in the Szolnok Museum of Military Aviation, the other was repaired by us and is still flying.
.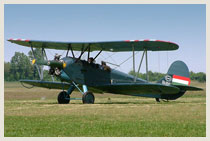 Technical data:
Wing-span:
11,4 m
Length of the plane:
8,17 m
Weight of the empty plane:
730 kg
Maximum take-off weight:
1250 kg
Cruising speed:
125 km/h